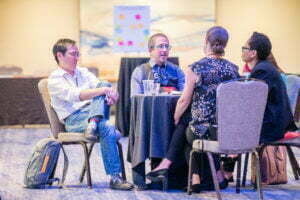 We are very excited to announce that we are accepting applications for SER's annual Team Mentoring Program. We invite all SER members to participate.

After another successful year, we will again offer a team mentoring format. Each mentoring team will be composed 5-6 members at various career stages. Team mentoring offers the opportunity for each participant to mentor and to be mentored through sharing of experiences.

The program will run from October 2023 to June 2024, and teams will meet once per month via video chat. Each mentor team will have a Team Coordinator, responsible for organizing or delegating administrative tasks. Optional discussion topics and supporting materials will be distributed each month, but mentor teams are free to decide on the topic that fits best for their group. It will be the responsibility of the entire team to decide on the topics and determine individual session facilitators.

The sign-up period for the 2023-2024 mentoring program will be August 11-25th, 2023. In order for us to manage a successful program, the program will be limited to approximately 120 SER members. Selection to participate will be random, stratified by career stage.