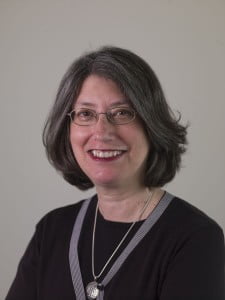 Dr. Emily White
Professor of Epidemiology
University of Washington
What sparked your decision to become an epidemiologist?
In high school and college, my talent was mathematics, but I was always looking for a career that used math for the good of society.  After I got married I moved to Seattle, my husband's home town, and discovered the field of biostatistics at the  University of Washington. That seemed like a great fit   to my skills and interests,  and then after getting a masters degree in biostat, I switched  to epidemiology for my PhD—an even better fit. Epidemiology combines  several fields I was interested in—biology, social sciences  and statistics, and aims to improve the public health—it had everything I was looking for in a career.
Why did you join SER? What keeps you coming back?
SER is the top professional organization for epidemiologists. The annual meeting and AJE allow epidemiologists , who typically specialize in one disease,  to keep up with advances in other diseases and in methodology.
What advice do you give students who want to become epidemiologists?
I tell them that it  is  a great career—it combines  multiple disciplines,  aims to improve health in the US and around the world,  has a lot of variety in what you do day-to -day and year -to -year,  and you often have quite a bit of  independence. Unlike jobs I had before, you never master the field and are always learning —in fact I feel the field  has grown at such a pace  that I get farther away from  mastering  it  each year. The downside of the career is that you need to work hard, often putting in long hours,  but it's worth it.
Personal History….
I grew up in Trenton , NJ, a place where the smart  kids all had the same goal—to graduate from  high school and leave  town.  I was lucky enough to get a full scholarship to Brown University to study applied mathematics. I then became a computer programmer, a career that was  just developing  and which   was somewhat open to women,  at a time  when women had limited opportunities.  I got married and moved to Seattle and earned the MS in Biostatistics and PhD in Epidemiology at the University of Washington.  I started my career just as Epidemiology was beginning to transition from  a field  of predominantly male MDs to female PhDs,  with the acceptance of women seeming to come a little easier to those already  in the profession than the acceptance  of non-MDs. Nonetheless,   I have had a deeply-satisfying, 35-year career  as Professor  of Epidemiology  at the  University of Washington  and as a Member at Fred Hutchinson Cancer Research Center.  I loved having the mix of teaching  (I taught Principles of Exposure Measurement in Epidemiology  and wrote a textbook on that topic), administration (including time as Associate Dean for Research for the School of Public Health),  research (I  was the Principal Investigator of the VITamins And Lifestyle (VITAL) cohort), and especially mentoring (I mentored over 100 trainees  and directed training grants for 25 years). I am now Professor Emerita and work part-time.
Outside of epidemiology what do you enjoy doing?
I enjoy movies, camping, traveling around the US and Europe, and spending time with my family, especially my granddaughter.